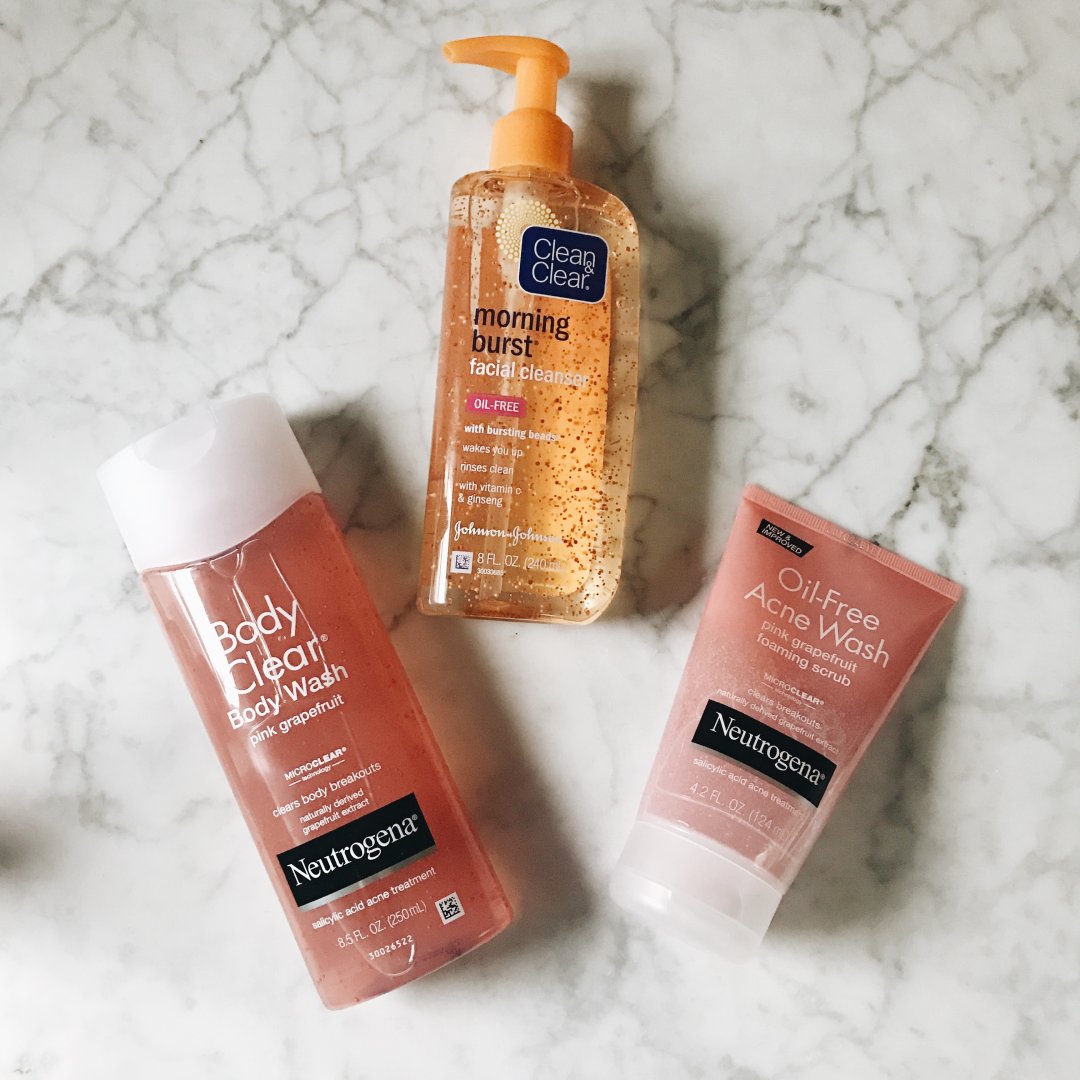 With Fall upon us and back to college season in full swing, life can get busy and taking care of yourself can fall to the back burner. I am here to remind you not to do that and to show you how I like to take care of my skin with Neutrogena®. All of my favorite products pictured above are shoppable from the first photo in this post! 🙂
My little sister just started her first year of college last week and I was reminded of how exciting of a time it is to go back to college. I helped her with a lot of her back-to-school shopping and one of the places we made multiple stops at was Target. I helped her download the Cartwheel app for more savings at Target and helped her get her skin care regimen together. Here are the tips I shared with her:
Regardless of your skin-type, there is a very important step in skin care that is often overlooked and that step is exfoliation. While exfoliation can be scary to some because it tends to be a harsher method for cleansing your skin, exfoliations purpose goes beyond cleansing. It helps turn over your skin cells and keep the skin on your face fresh and glowy and who doesn't want to be fresh and glowy for back to school or their first day on the job? One of the exfoliators I like to use is this Neutrogena® Oil-Free Acne Wash Pink Grapefruit Foaming Scrub. This scrub is great because it has vitamin C and naturally derived grapefruit extract which keeps your skin clear without over drying or irritating your skin! If you like Neutrogena® facial products, Buy 3 Neutrogena® facial skincare product, get a $5 gift card during August.
Like I mentioned earlier, exfoliators can be a little harsher on your skin than other facial cleansers so it is important to note that scrubbing products should be used 2x per week at most. To avoid over exfoliating, use a cleanser like this Clean & Clear® Morning Burst Facial Cleanser when cleansing your face other days during the week. Like the name implies, this is a great product to use in the morning. The vitamin C and ginseng in this cleanser will wake you and your skin up in the best way! PS at Target right now, get 25% off when you buy one Clean & Clear® product!
Once you add the exfoliator to your skin regimen weekly or bi-weekly, not only will your skin be happy but you will also notice that you will need smaller amounts of products so your wallet will be happy too! Since exfoliation turns over your skin cells, it allows your skin to absorb your moisturizers and toners in a much more effective way. Same thing goes for foundation and makeup products, you will notice that without all of the dead skin cells on your face, your products go much further! How awesome is that?
While facial skin care is important, we can't forget about your body! Cleansing and exfoliating is just as important all over your body and this Neutrogena® Body Clear® Body Wash – Pink Grapefruit is a great product to use, not to mention the uplifting scent of grapefruit. I love the fresh grapefruit scent and the fact that is it naturally derived from grapefruits on top of that! The great thing about a body wash like this is that if you need some extra exfoliation, you can use a loofah to apply it in the shower! This will help activate the microclear technology in this Neutrogena® Body Clear® Body Wash – Pink Grapefruit even more so and provide you with fresh clean skin! Neutrogena® and Clean & Clear® have got you covered when it comes to going keeping your skin fresh throughout college and trust me, if you prefer other products, they have something for everyone! Head to Target ASAP to get your favorite products and don't forget to download the Cartwheel app for extra savings like we did when shopping for my sisters back to school necessities!
This post is sponsored by CLEAN & CLEAR® and NEUTROGENA®. I only recommend products I use personally and believe my followers will also enjoy! Some of the products mentioned were provided by CLEAN & CLEAR® and NEUTROGENA® for this review.